Tet Nguyen Dan, or Tet, is Vietnam's Lunar New Year and is the most important annual celebration and public holiday in Vietnam. It is celebrated on the first morning of the first day of their calendar, and celebrations span for a week. This year, Tet falls on February 1, a Tuesday, and marks the Year of the Tiger. However, like last year's observance of the holiday, the Vietnamese government, local officials, and families are more cautious in their celebrations due to the ongoing pandemic.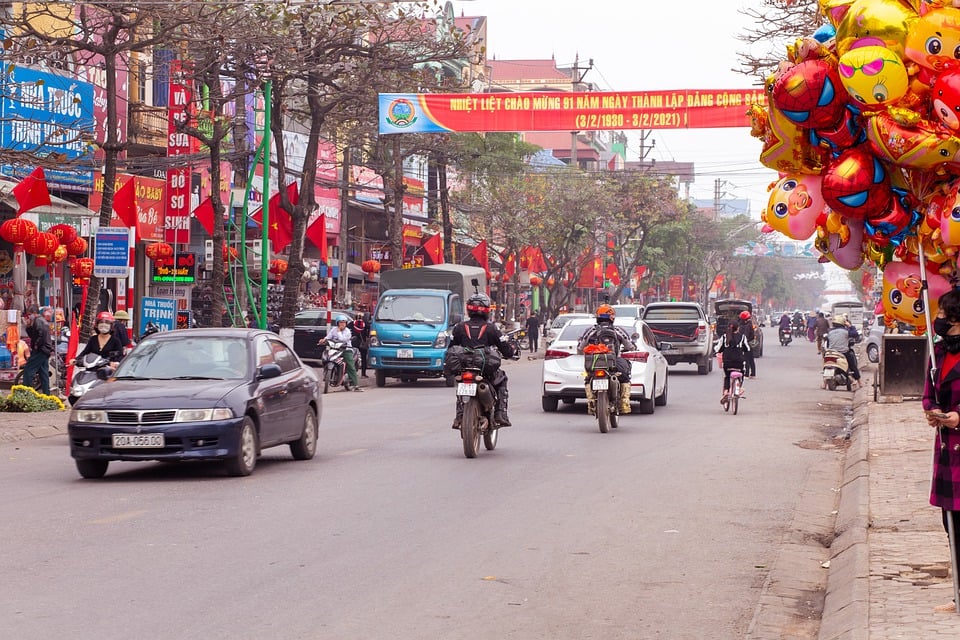 Tet is both a celebration of the new year and the coming of spring. Before the pandemic restrictions, exuberant festivities are held, with traditional food being served, and dragon dances performed along the streets. It's a very festive time to visit Vietnam, and an opportunity for families to pay homage to their ancestors and have reunions.
Of all the festivals in Vietnam, Tet is the most family-oriented holiday. Preparations for the festivities usually happen a week earlier, as people join the holiday rush back to their hometowns. Families clean the family graves, worship at their altars, and decorate their homes with apricot blossoms, peach blossoms, and kumquat trees, which symbolize hope for prosperity and well-being. During Tet, families prepare a feast to welcome back relatives and friends, as they exchange greetings and best wishes for the new year.
Preventive measures placed
From the beginning of the country's fourth COVID-19 outbreak on April 27, 2021, to December 17, 2021, the country recorded over 1.5 million new cases, of which nearly 1.1 million patients were declared all-clear and more than 29,000 died. The number of community cases and deaths continues to increase rapidly in many localities.
As the latest wave of COVID-19 cases continues to increase due to the Omicron strain of the SARS-CoV-2 virus, the Vietnamese government proposed restrictions and enhanced screening of visitors. In December 2021, the country's Ministry of Health proposed all non-essential activities, as well as entertainment and festive activities in localities with a high risk of Covid-19 resurgence, be suspended for the upcoming Tet holidays. According to a document that the ministry sent to the government, many localities are recording a large number of new infections, especially in areas with high population density, high rates of trade and travel activities.
In a separate move, the ministry also reached out to local administrations, Pasteur institutes, and the National Institute for Hygiene and Epidemiology to discuss enhanced surveillance methods for the Omicron variant. Since November 28, 2021, all new arrivals in the country who have tested positive for coronavirus through the RT-PCR method or NAAT (Nucleic Acid Amplification Test) within 14 days of entry had their samples taken for genomic sequencing. This is an added challenge for returning overseas Vietnamese, who are already expecting the cost of plane tickets and hotel quarantine at around 40-50 million VND, or roughly 1,800 to 2,200 USD, and current plane ticket prices going as high as 4,000 USD for a one-way trip.
Local officials also took initiative in preparation for Tet. For example, in the city of Thanh Hoa, officials called for people not to return for Tet if not necessary out of COVID-19 fears. The residents received a letter from the local Party Committee, the People's Committee and Fatherland Front Committee, asking for their "cooperation in implementing Covid-19 prevention measures." The city authorities called on residents to tell their family members not to return to their hometown "especially before, during, and after Tet." As it was deemed controversial, with many saying the travel restriction would oppose current governmental policies for adapting to life with Covid-19, the head of the Fatherland Front Committee said the letter was a recommendation, not a travel ban.
Keeping the tradition alive
On the other hand, there are efforts to keep this year's Tet a good and memorable experience. The Labor Federation of Ho Chi Minh City plans to spend over 700 billion VND, or roughly 30.8 million USD, to organize several activities and present gifts to laborers in the city to celebrate Tet.
Under the motto "Tet for all trade union members, all laborers," the trade unions will hold celebrations for all laborers who would not be able to return to their hometowns for the festival. A prominent event is the Tet sum vay (Tet reunion) program, expected to gather 10,000 worker families to welcome the Year of the Tiger. Another program will organize trips to the Dam Sen amusement park for the 10,000 families of trade union members during the Tet holiday. Moreover, trade unions will continue to implement a support program for the workers to their hometowns by providing around 35,000 bus, train, and plane tickets.
Additionally, in meetings with ministries and branches last December 2021, Deputy Prime Ministers Vu Dac Dam and Pham Binh Minh encourage overseas Vietnamese to celebrate Tet at home. Dam asked the Ministry of Health to issue new quarantine and health monitoring guidelines for the returning Vietnamese, while Minh stressed that resuming international commercial flights is a requirement in the new normal, especially with the year-end and Tet travel demands. They have asked the Ministry of Transport, the aviation sector, and the ministries and branches to prepare reports and urgently prepare for the reopening of air routes and publish procedures so that overseas Vietnamese can properly arrange their travel plans.
Want to learn more about festivals in Asia? Then check out our other Eye on Asia entries! We've got stories on mooncakes and Vietnam's coffee culture. See you in the next one!