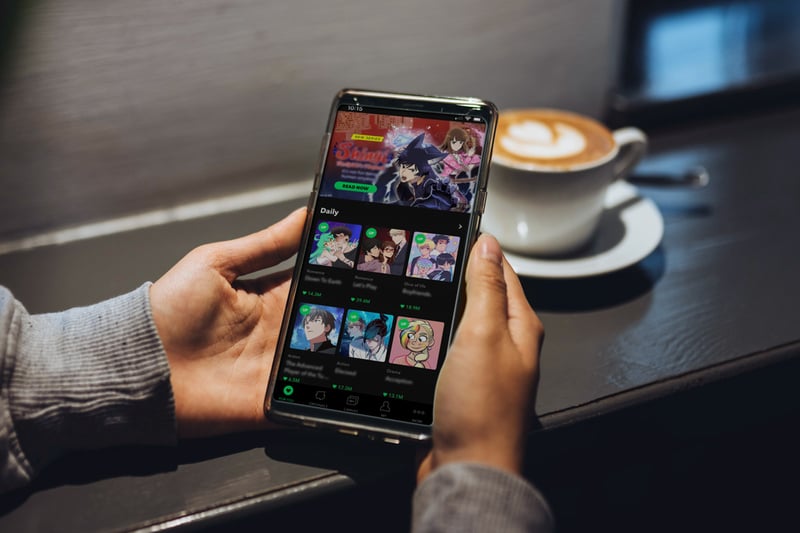 We've previously discussed the emerging global success of the Korean animation industry, which had its roots in outsourced Western animated shows and is now starting to establish a global following. While the so-called aeni industry is still on the verge of a breakthrough, its industry cousin is already winning on the global stage and is planning to further dominate Western media.
Webtoons, which are comic strips that are designed for viewing and reading on smartphones, have become Korea's latest cultural export to break out of Asia. While Japan's manga market is by far the world's biggest, South Korean companies are leading the industry's digital transformation.
In fact, Korean webtoons have already established a big business in Japan. South Korean companies, including Kakao and Naver, now have control over 70% of the Japanese digital comic market in 2021, according to a Korea Creative Content Agency report. In January 2021, Piccoma, the Japanese webtoon affiliate of Korea's Kakao Entertainment, reached monthly revenues worth 96 million USD, making it just second to TikTok in the top-grossing non-gaming apps in the world, and the world's third-highest earning app, all the while offering its services exclusively in Japan. As of 2020, the top three export destinations for Korean webtoons are Japan (31.8%), China (23.4%), and North America (15.7%), according to the Korea Creative Content Agency. This was based on a survey among South Korean webtoon businesses on which countries have the most webtoon content exported to.
Webtoons have now broken into the global mainstream market, thanks to several adaptations of popular content. For example, the zombie apocalypse coming-of-age drama All of Us Are Dead started as a digital comic on the Naver Webtoon platform but later became the most-watched non-English show on Netflix. Other successful adaptations include the Kakao webtoons Itaewon Class, Moving, and Dr. Brain, which have become popular shows on Netflix, Disney+, and Apple TV+, respectively.
Borne out of a crisis
Korea's seeds of its digital revolution can be found in the previous collapse of its comic book industry during the late 90s. The 1997 Asian financial crisis dealt a major blow to the industry as sales plummeted amidst mass unemployment. While some publishers were forced to shut down, others churned out rip-offs of Japanese manga to stay afloat.
The dot-com boom of the late 90s became a golden opportunity for Korean publishers, but it was still a struggle for them since the country had yet to fully recover from the crisis. The breakthrough happened when search engines began looking for ways to keep users coming to their websites. By the early 2000s, Korean internet portals started offering digitized and original comic book content for free.
One of the pioneers of the webtoons is Kim Jun-Koo, a software engineer who was frustrated by the slow death of traditional Korean manhwa comic books. In 2004, he developed the webtoon platform Naver Webtoon (then just known as Webtoon), which is now one of the world's largest digital comic platforms, boasting over 750,000 creators and 82 million active users. The amount of money spent by users within his app increased from 492 million USD in 2019 to 900 million USD in 2021.
Earning global appeal
What makes Korean webtoons interesting is the opportunity for creators to upload content for free, giving audiences an unlimited and diverse range of content. Additionally, Korean webtoons adopted a distinctive vertical scroll-to-read style, which made them easier to read on smartphones. This format strikingly resembles film storyboards, so readers can easily associate them with a motion picture. While films and TV series cost a lot to produce, webtoons require little budget while at the same time offering great quality.
As hundreds of thousands of creators regularly release content for tens of millions of monthly readers, webtoon companies develop different monetization strategies. While some employ a YouTube business model of attracting swathes of readers with free content, others use a Netflix type of business strategy by attracting paying subscribers for the most popular series or utilize the microtransaction payment model that is usually found in gaming apps.
Like Korea's other cultural industries, webtoons are increasingly looking overseas to find greater success. Industry leaders describe a "virtuous circle" in the industry, where successful adaptations into other media attract legions of international fans, which then turn to the webtoons as they seek out the source of their favorite stories and characters. Additionally, Korean webtoon platforms have started to "import" foreign audiences. For example, Kakao Entertainment collaborated with American comic book publisher DC Comics in 2019, while Naver Webtoon has established partnerships not only with DC, but also with Marvel, Archie Comics, and Hybe, the company behind the K-Pop boyband BTS.
Two giants slugging it out
Naver Webtoon and Kakao Entertainment are the two leading companies in the industry and are constantly at odds with each other in terms of reach and profit. Both now have established loyal followings across Europe, Latin America, and Southeast Asia. While Naver Webtoon is bound to launch its own European corporation, Kakao Webtoon recently launched in Thailand and Taiwan.
Kakao Entertainment is now focused on expanding into the US, and they've acquired the Los Angeles-based webtoon publisher Tapas Media in 2021 in a 510 million USD deal. In the same year, Naver Webtoon completed the 600 million USD acquisition of Wattpad, a Canadian platform for user-generated written content, with 94 million users of its own. While this allows access to new users in foreign markets, the executives believe that this will drive up the quality of content by partnering writers with promising illustrators.
While both platforms target Western countries, analysts have questioned if Korea's "digital snack culture" will resonate with this new audience, but executives and creators are placing their confidence in a group of consumers often overlooked – young women and teenage girls. Over 70% of Naver Webtoons' US users are under 24, while 80% of Wattpad's readership are young women.
While physical manga remains popular, digital sales have already taken over the biggest slice of the comic book market in 2021 and are estimated to grow more than 80 percent by 2025, according to the Korea Creative Content Agency.
Want to know more interesting insights into Korean pop culture? Check out our other Eye on Asia articles like Korea's dominance in the online gaming industry and our recent poll about the most popular K-Pop groups. Also, get to know dataSpring's Korean online research panel here.