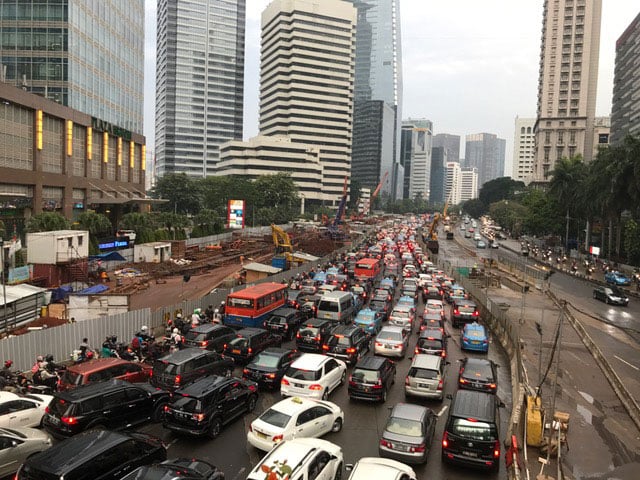 Indonesia - a nation of 259 million people and the fourth largest country in the world by population. Due to its rapidly growing economy, public transportation has been a huge issue not just within large cities, but also between cities. In big cities like Jakarta (with a daytime population of 12.4 million), traffic is a constant problem of everyday life. Subways originally planned 30 years ago are still under construction, blocking main roads, while other construction sites slow the traffic flow. With the number of vehicles growing at a rate of 11% per year while road growth is only 0.01% per year, it's no surprise that roads are constantly congested. To overcome traffic issues, the Jakarta government implements an odd-even number plate restriction during rush hours until a toll system in the city center is created.

Ojek: Indonesia's Motorcycle Taxi
Just like many other Southeast Asian countries, cars are not the only means of transportation. Motorbike taxis called Ojek have been the mode of transportation of locals for years. Today, there are several ride-hailing services, including Uber, Grab, and Go-Jek, a local company. The ride service fee starts for as low as US$0.50, and may also be used for food delivery, massage, and relocation services. During day time, many drivers are parked outside of office buildings and shopping malls to wait for customers.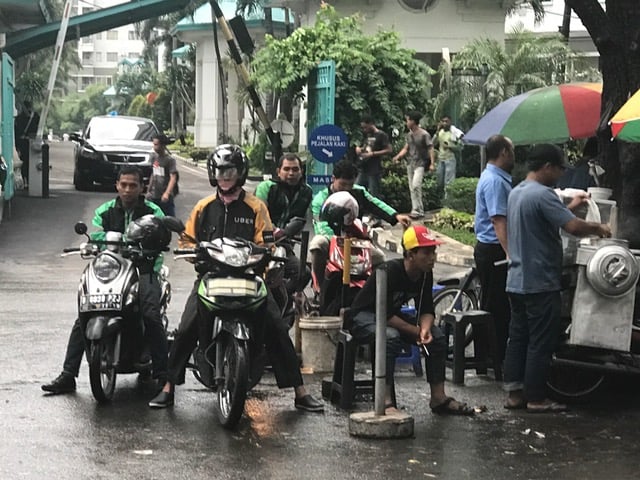 Suspended Railway Construction in Indonesia
Java Island is home to 150 million people, with large cities such as Jakarta, Surabaya, and Bandung. Getting around the island is no easy task. With no high-speed railway, it takes over three hours to cover a distance of only 140 km from Jakarta to Bandung by train. In September 2015, the Chinese government commissioned a project to construct a high-speed railway system from Jakarta to Bandung. However, construction has not yet begun so there's no telling when the railway will open. Meanwhile, the traffic situation between these two cities gets worse and worse. Its expressway is constantly highlighted in red on google map, indicating perpetual heavy traffic in the area.
Air Travel in Indonesia
Indonesia consists of 18,000 islands. The width of the country is 5,000 km, about the same distance from East to West coast of the United States. With many islands spread across a large area, air travel takes an important and unique role in the country. Due to the growth of the low-cost carrier market, with Lion Air as the largest airline, they have a market share of just below 50% even though passengers are always disappointed with their frequent flight delays. In fact, passengers are so used to delays that there will be no complaints if their flights are postponed for only an hour or so.
Living in Indonesia requires a lot of patience as you'll be spending a lot of time stuck in traffic or at the airport terminal. It will probably be another few years (if not longer) until the first section of the subway opens in Jakarta. Let's wait and see what part of transportation develops first to alleviate the pain of traveling in the country.
Want to know more interesting Asian insights? Check out our other Eye on Asia articles like the solo dining trend in Korea or Japan's cherry blossom economy. Also, check out this feature about dataSpring's Indonesian online research panels.